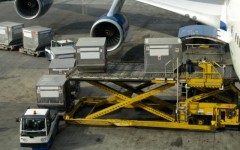 08 May 2020:
Australia's two airlines Qantas and Virgin Australia have made major cuts to the number of flights. The huge reduction in flights is expected to cause a big hit the air freight sector, as reported by several international aviation experts.
The lockdown of interstate and international borders combined with the sudden reduction in flights will mean air freight companies will have trouble meeting the demands of time sensitive cargo deliveries that are uplifted on commercial passenger flights. It is expected that medical supplies and other urgent air freight will not meeting time deadlines for delivery to the required destinations.
By far the majority of worldwide air freight  including domestic air freight, is in the bellies of commercial aircraft and as such with no passenger aircraft moving, urgent air freight is not uplifted in a timely manner and remains in the warehouse or sitting in sheds at the airport.
Several different industry groups have called on governments around the world to prioritize space on the limited number of aircraft flying for urgent medical and hospital goods. A spokesperson recently noted that the  Governments should look not only at air freight but sea freight and cargo ship movements all around the globe.
Leading authority on Australian Shipping, Shipping Australia noted the 14 day no ports rule will cause serious shortages of commodities for the Queensland people and could cut of shipping lanes. Government officials have pushed back shipping Australia suggesting the rules are in place for the health of not only Queenslanders but all of Australia. It has been reported that despite the restrictions bulk cargo is moving through Queensland ports and shipping is running as normal.
One of the issues confronting industry bodies is the urgent need to keep shipping lines supply lines open for pacific islands freight and freight to PNG. Most cargo travelling to the Pacific Islands includes shipping containers to the pacific and Port Moresby, including more remote locations like Tarawa in Kiribati, Keita in Bougainville, Woodlark and Manus Islands and other islands in Micronesia.
Australian government spokesperson agreed that trade to the pacific islands and especially Papua New Guinea and outlying islands is desperately important especially in these times when China is putting itself out as a great friend of the Pacific nations. China is supposedly offering Islanders financial support in return for ownership/control over key infrastructure like ports for example. The Australian Government needs to work closely with our Pacific Islands friends, maybe even offering more migration opportunities for Pacific Islanders to come to Australia for work and education. Whatever happens in the future would be better for Australia than China owning key pacific islands infastructure .