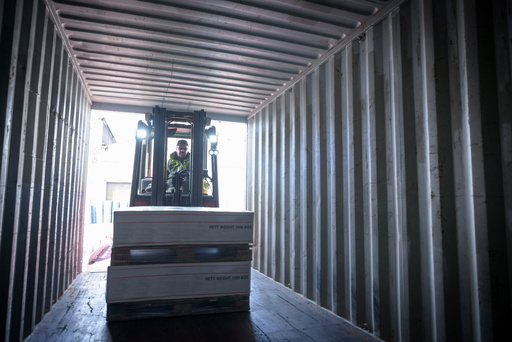 SHIPPING CONTAINERS TO NIGER
"Relax shipping containers and air freight to Niger is EASY with CargoMaster"

Welcome to our website and thank you for visiting CargoMaster. At CargoMaster we're FOCUSED ON DELIVERING great service and EASY to work with International Shipping solutions to the Republic of Niger. The CargoMaster team UNDERSTANDS the dynamic world of international freight and shipping, we work closely with our clients, making sure each and every consignment is delivered at the right time, in the right condition and at the right place, all for the right price! At CargoMaster we are constantly delivering low cost, innovative AIR FREIGHT and SEA FREIGHT  solutions to our clients. CargoMaster is an Australian. "GLOBAL SHIPPING OPERATOR, FROM AUSTRALIA TO NIGER" Sydney, Melbourne, Brisbane, Perth, Adelaide, Hobart, Canberra and Darwin (and regional centers)
CARGOMASTER works with a INTERNATIONAL TEAM OF CONNECTED AND DEDICATED TRANSPORTATION PROFESSIONALS. CargoMaster is a FULLY INSURED, INTERNATIONAL SHIPPING COMPANY (or International Freight Forwarder), boasting 35 YEARS TRANSPORTATION EXPERIENCE . CargoMaster is renowned for delivering COST EFFECTIVE and INNOVATIVE international shipping solutions to Niger, we have been SHIPPING CONTAINERS AND ORGANISING THE URGENT UPLIFT OF AIR FREIGHT TO NIGER FOR OVER 15 YEARS, SAVING OUR CLIENTS THOUSANDS OF DOLLARS in international shipping costs, CargoMaster has moved hundreds of containers from Australia to Niger and all over Africa, shipping all types of cargo including machinery,excavators, cars,buses,mining equipment, industrial machinery,clothing,second hand goods and personal effects ,the list is endless! CargoMaster offers you a PROVEN, TECHNOLOGICALLY ADVANCED  World-wide team of  real EXPERIENCED PROFESSIONALS, CargoMaster KNOW-HOW to get your goods to  Niger, QUICKLY AND COST EFFECTIVELY.
Most popular are 20ft and 40ft containers from Australia (all capital cities) to Niamey, in addition CargoMaster offers 20ft and 40ft flt racks, open top containers and high cube containers, breakbulk and RORO services
$$$$$$$$$$$$$
(Save, Save, Save upto 40% on shipping containers to Niamey!)

20′ AND 40′ SHIPPING CONTAINER TO NIAMEY FROM AUSTRALIA, GREAT DEALS BIG BIG

SHIPPING CONTAINERS AUSTRALIA TO NIGER DEALS HERE NOW!

SEA FREIGHT  SYDNEY,MELBOURNE,PERTH,BRISBANE, ADELAIDE,DARWIN AND CANBERRA TO NIAMEY

CALL NOW!

1300 767 136

EMAIL US WE WILL SAVE YOU TOO! [email protected]
"VESSELS SAILING WEEKLY FROM AUSTRALIA"
CALL: 1300 767 136
SHIPPING CONTAINER DIMENSIONS
Below are the dimensions of containers and flat racks that CargoMaster ships to Africa. Vessels sail weekly to most major African cities. If you want to move cars, buses, trucks, machinery, or if you are relocating to Africa call CargoMaster and ask about Self-Pack international shipping containers to Africa. With a CargoMaster self -pack you are in control of your move plus you save thousands compared to an international removalist!
20 ft Standard Dry (8'6″ x 8′ x 20′)

Weight: 4500lbs
Max Gross Weight: 66,139lbs
Interior Dimensions:
Length: 19′ 5″
Width: 7′ 8-⅛"
Height: 7′ 9-⅝"
Door Opening:
Width: 7' 8-½"
Height: 7' 5-¾"
40 ft Standard Dry (8'6″ x 8′ x 40′)

Weight: 8500lbs
Max Gross Weight: 66,139lbs
Interior Dimensions:
Length: 39′ ⅜"
Width: 7′ 8-⅛"
Height: 7′ 9-⅝"
Door Opening:
Width: 7' 8-½"
Height: 7' 5-¾"
40 ft High Cube (9'6″ x 8′ x 40′)

Weight: 8750 lbs
Max Gross Weight: 68,008lb
Interior Dimensions:
Length: 39′ 4"
Width: 7′ 7"
Height: 8′ 9″
Door Opening:
Width: 7' 8″'
Height: 8' 5"
BREAK BULK, OUT OF GUAGE AND PROJECT SHIPPING TO AFRICA:
CargoMaster looks after break bulk shipping to Africa from Australia too. Vessels sailing weekly from Sydney, Melbourne, Brisbane, Perth, Adelaide and Darwin to Africa. CargoMaster will organize lashing and bracing of cargo onto flat racks and when required marine surveyors to inspect the loaded flat rack. Flat racks can be delivered to your premises or can be loaded in any of CargoMaster's yards around Australia. Marine transit insurance available if required.
20ft flat rack dimensions
Dimensions of 20ft flat rack container
Internal length
5.94 m / 19.5 ft
Internal width
2.35 m / 7.7 ft
Internal height
2.35 m / 7.7 ft
Tare weight
2,360 kg / 5,203.8 lbs
Payload capacity
30,140 kg / 66,458.7 lbs
Cubic capacity
32.7 m³ / 1,154.3 cu ft
40ft flat rack dimensions
40ft flat rack dimensions
Measurement of 40ft flat rack container
Internal length
12.13 m / 39.8 ft
Internal width
2.40 m / 7.9 ft
Internal height
2.14 m / 7 ft
Tare weight
5,000 kg / 11,025 lbs
Payload capacity
40,000 kg / 88,200 lbs
Cubic capacity
62.2 m³ / 2,195.7 cu ft
CargoMaster looks after all your Australian export customs documentation ( including assistance with your BIVAC PRE SHIPMENT INSPECTION AND DOCUMENTATION, if required) and delivery of your empty container, ready for packing ,to your nominated address.Once your container is packed (and SECURITY LOCKED,with your CargoMaster issued numerical bolt seal) and ready for pick up , simply call CargoMaster for collection and SAFE SHIPPING TO NIGER!
REMEMBER, when you work with CARGOMASTER your backed by an EXPERIENCED international shipping team, offering you an ESTABLISHED and PROVEN, TECHNOLOGICALLY ADVANCED international shipping network. We offer our shipping services to NIGER as SPECIALISTS, with SECURITY, INTEGRITY and PROFESSIONALISM synonymous with the CargoMaster name.
We invite you to take the next step TODAY. , call or email us
NIGER SHIPPING HOTLINE:
TEL: 1300 767 136
EMAIL: [email protected]
20′ AND 40′ SHIPPING CONTAINER TO NIGER FROM AUSTRALIA, GREAT DEALS BIG BIG SAVINGS CALL NOW!
OVERSEAS SEA FREIGHT CONTAINERS FROM AUSTRALIA TO NIGER
SELF PACK INTERNATIONAL SHIPPING CONTAINERS TO NIAMEY, Great deals available to most African cities,for anyone moving overseas to Niger, CargoMasters international moving containers will save you lots of money , you pack the container and CargoMaster will arrange customs documentation, all your export paperwork and shipping to most major cities in Africa.
HOW IT WORKS

You simply let us know the day and time you would like your self-pack international shipping container delivered, the team at CargoMaster will then  organise delivery of the empty container at your appointed time, to your premises,ready for packing (or you can pack in our yard at no extra cost!),upon completion of packing, simply attach your CargoMaster pre-issued numerical bolt seal and SECURITY LOCK your shipping container ,then call the team at CargoMaster ,we will take care of your Australian export documentation and look after the lodgement and shipping of your container  to its intended ultimate destination. International Shipping Containers are conveniently positioned in Sydney, Melbourne, Perth, Brisbane, Adelaide,Darwin,Hobart and Canberra. Our moving containers are available in regional centres too, CargoMaster delivers self pack international  moving containers to even the most remote locations in Australia.Self pack international shipping containers offer a FLEXIBLE and cost effective, self move alternative to expensive International Removalists.

SHIPPING FROM AUSTRALIA TO NIGER
TEL: 1300 767 136 NATIONWIDE