International Freight 
"Welcome, Grant Carroll,the Managing Director of CargoMaster boasts 35 years transportation experience and over 20 years experience moving International Air Freight and Sea Freight (including Shipping Containers) all around the world, to and from Australia, many years experience indeed, a Transportation PROFESSIONAL, with vast experience and know- how."
"Why you should call CargoMaster for your International Freight"
At CargoMaster you get to work with genuine international freight professionals with real experience KNOWLEDGE and KNOW-HOW.
CargoMaster understands the world of international air freight and sea freight shipping and knows the skills needed when moving international cargo to and from Australia, (and all that goes along  with it,including documentation,  bank guarantees, international maritime rules, regulations, laws, embassy certified documentation for middle eastern clients and BIVAC requirements for African clients). CargoMaster international freight and moving services include: preparing and certifying legal documentation, extensive experience working with Letters Of Credit, Seaway Bills, Airway Bills, Bills Of Lading, Bills of Sale and MOST types of titles to ownership (and associated documentation).
CargoMaster Guarantees ( money back in Full!) that all CargoMaster  staff ( including the Directors) are POLICE SECURITY CLEARED .
For large project sea freight , bulk sea freight movements, valuable heavy sea cargo, Air freight and heavy lift air freight, established relationships with Australian and overseas based insurance companies and attorneys, that specialize in maritime law and  global shipping, including project cargo. (ensuring your covered and protected)
CargoMaster KNOW HOW comes with 35 years transportation experience.
Weekly international container services to most World-Wide cities with the fastest transit times
Weekly low cost international air freight consolidation services from all major Australian cities.
Because your backed by an international  sea freight and air freight specialist that offers ESTABLISHED AND PROVEN, real and extensive international transportation resources
An established TECHNOLOGICALLY ADVANCED INTERNATIONAL SEA FREIGHT AND AIR FREIGHT NETWORK (no silly, fast talking salesman or spin!) International air and sea  shipping Services available  from and to Sydney, Melbourne, Brisbane, Adelaide, Perth, Canberra, Hobart and Darwin ( regional and remote centres too!).
"CargoMaster, moving your international freight with security, integrity and professionalism"
CALL CARGOMASTER: 1300 767 136
CargoMaster is renowned for delivering cost effective  International  freight solutions. CargoMaster has been doing it for a long time, CargoMaster knows a thing or two about international freight and shipping! CargoMaster's KNOW HOW AND EXPERIENCE comes with 35 years in the Transportation industry; Real, hands on professional experience, in almost all aspects of the transportation industry. Don't risk it, look very closely when choosing your preferred international freight partner (on the internet!). Over the years, hundreds, even thousands of happy customers have partnered with CargoMaster , moving all types of cargo, air freight and sea freight to and from all corners of Australia and the world.
"CargoMaster  EXPERIENCE with KNOW HOW,  it simply cannot be copied"
CONTACT CARGOMASTER: info@cargomaster.com.au
CargoMaster is one of Australia's most trusted International freight companies, we have been moving international shipping containers overseas  and air freight all around Australia and the world for over 15 years,whether your a large company or private individual , if   you consign heavy machinery or equipment, bulky cargo, hazardous or fragile cargo or shipping container loads by international sea freight, CargoMaster has a logistics solution to help you move your International Freight to any point on Earth, CargoMaster's convenient weekly International Sea Freight consolidation services from All Australian Capital Cities by LCL  or FCL  includes preparing and arranging International Freight documentation, CargoMaster's low cost daily international air freight  consolidation service offers clients flexibility and cost effective options with direct urgent air freight  services available for critical time sensitive International Air Freight.
INTERNATIONAL FREIGHT FORWARDERS
As specialists CargoMaster provides clients with a complete range of International Freight Transportation and shipping solutions that includes packaging and unpacking of International Freight Containers and customs clearance and warehousing services. CargoMaster's International network of accredited customs houses and  freight forwarders means all International Freight is handled professionally and safely from point of origin to point of destination. In the dynamic world of International trade CargoMaster's renowned network is flexible and unique, tailored to meet even the most demanding International Freight projects. With bonded warehouses in all of Australia's Capital Cities CargoMaster is the perfect choice to meet any International Freight requirement.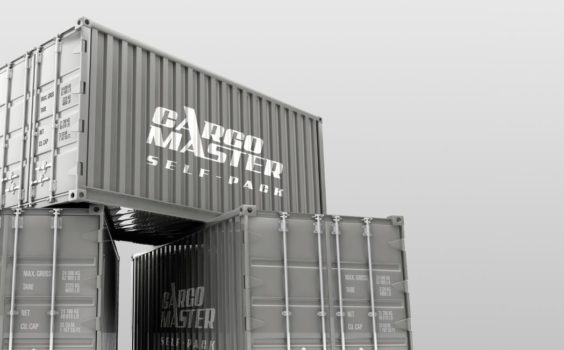 NEW AND USED SHIPPING CONTAINERS FOR SALE
CALL: 1300 767 136
INTERNATIONAL SHIPPING CONTAINER OPTIONS
| Type of Container | Inside Dimensions (m) | Door Opening (m) | Tare Weight (kgs) | Volume (cbm) | Loading Capacity (kgs) |
| --- | --- | --- | --- | --- | --- |
| 20′ Standard Container | 5.92×2.34×2.38 | 2.29×2.28 | 1.9 | 33 | 22.1 |
| 20′ Open Top Container | 5.92×2.34×2.38 | 2.29×2.28 | 2.177 | 31.6 | 21.823 |
| 20′ Reefer Container | 5.38×2.24×2.29 | 2.24×2.12 | 3.209 | 24.1 | 17.111 |
| 20′ Flatrack | 5.94×2.40×2.27 | | 2.56 | | 21.44 |
| 40′ Standard Container | 12.06×2.35×2.38 | 2.29×2.28 | 3.107 | 67.3 | 27.373 |
| 40′ Open Top Container | 12.064×2.34×2.37 | 2.29×2.25 | 4.445 | 64 | 26.067 |
| 40′ Reefer Container | 11.21×2.25×2.18 | 2.22×2.12 | 4.84 | 49.3 | 25.64 |
| 40′ Flatrack | 12.07×2.42×2.10 | | 5.55 | | 25.22 |
| 40′ High-Cube | 12.06×2.34×2.68 | 2.29×2.25 | 3.265 | 75.8 | 27.215 |